Dear North Ridge Family,
There are certain days and certain events that have changed the world forever. Some of those events have changed the world in a bad way like when terrorists destroyed the World Trade Towers on September 11, 2001. Other events have changed the world in positive ways like when Jonas Salk created and introduced the polio vaccine in 1955. As amazing as that was, the one event that has brought more hope and more help than all other events combined was the resurrection of Christ. This amazing grace event is why it is wise and important for all who name the name of Christ to gather with other believers this Easter Sunday to reconnect with the reason for this season.
My Easter message is entitled A Place of Grace and as we draw near the empty tomb we will discover five reasons the resurrected Christ is such a big deal! In addition, I've heard word that you will be blown away by some of the things Robert and our worship teams have planned to maximize our Sunday celebration. Please join us and bring along your friends and neighbors as I can promise it's going to be an absolutely inspiring experience.
Due to the extra friends we anticipate on campus this week, we are adding additional services so be sure to pay attention to our special (this Sunday only):
8:00 AM, 9:30* AM, 11:00* AM and 5:00 PM
(*full children's program offered)
In addition to the three morning services we will be offering in the auditorium, we will be offering Coffee House services in the Ridge Cafe at 9:30 AM, 11:00 AM and 5:00 PM. The 9:30 AM and 11:00 AM services are usually the most crowded so we will have overflow parking available at the school (1 minute to our south) with shuttle service to NRCC. It's going to be a wonderful weekend so get ready, baby, to receive and to give a huge blessing! I can't wait to see you and the crew on Sunday. He Is Risen!
Sure Do Love You,
Pastor Mike
P.S. As has become our custom in recent years, 100% of our Easter offering this year will be directed to our community via our Northern Lights 2017 program. In addition to our goal of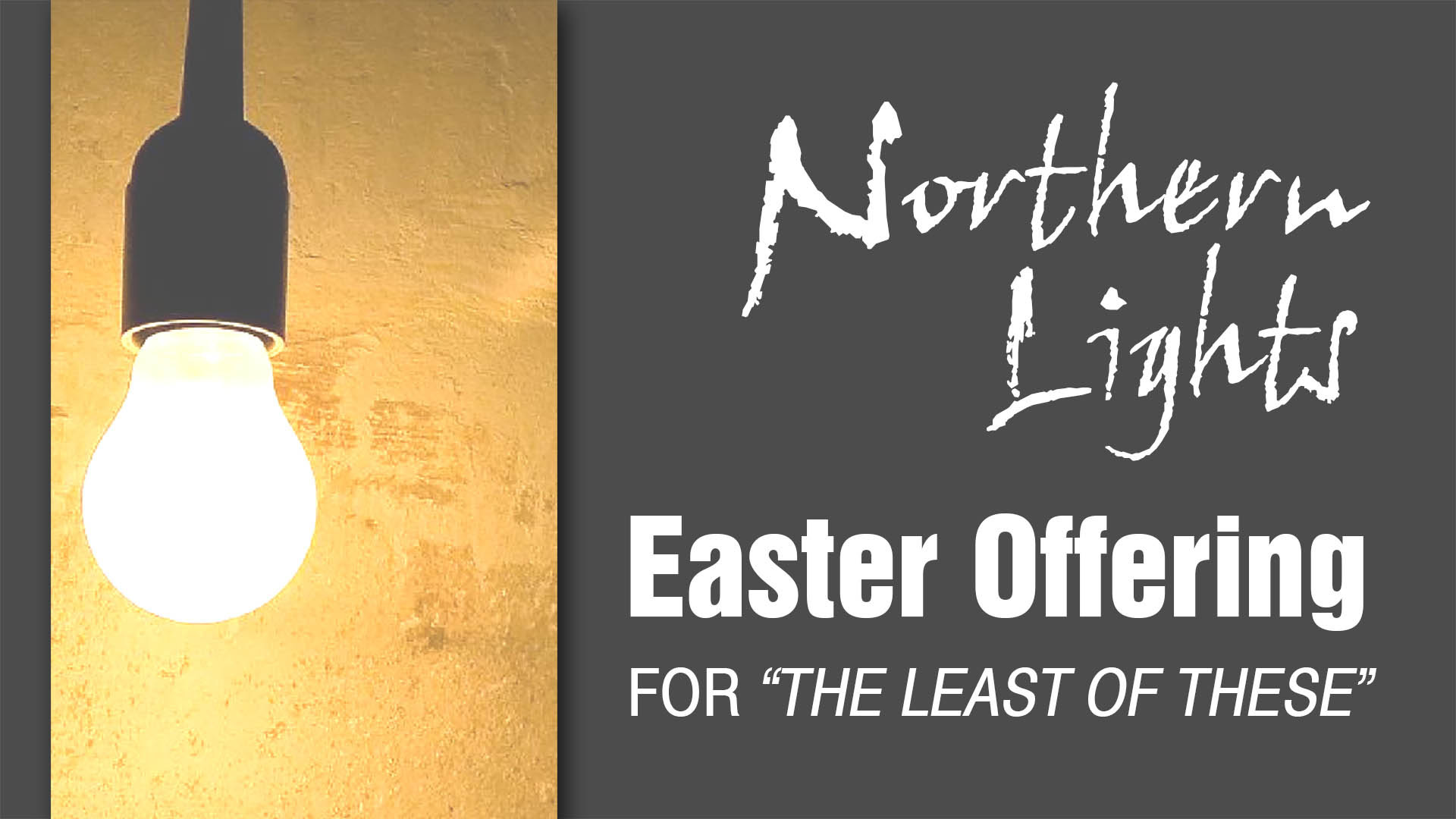 once again paying the May light bill of every widow and single mom in our zip code, we have received a matching challenge grant of up to $50,000 to help our sister refugee church (Victory Community Church) finish out its children's building and outreach center. Should additional Northern Lights funds come in we will once again be sharing those with our community partners and programs. I can't wait to see what God will do this Easter through the North Ridge family to help the least, last and lost.
Sunday
1 Corinthians 15:1-8 Now, brothers and sisters, I want to remind you of the gospel I preached to you, which you received and on which you have taken your stand. By this gospel you are saved, if you hold firmly to the word I preached to you. Otherwise, you have believed in vain. For what I received I passed on to you as of first importance: that Christ died for our sins according to the Scriptures, that He was buried, that He was raised on the third day according to the Scriptures, and that He appeared to Cephas, and then to the Twelve. After that, He appeared to more than five hundred of the brothers and sisters at the same time, most of whom are still living, though some have fallen asleep. Then He appeared to James, then to all the apostles, and last of all He appeared to me also, as to one abnormally born.
Monday
John 20:11-14 Now Mary stood outside the tomb crying. As she wept, she bent over to look into the tomb and saw two angels in white, seated where Jesus' body had been, one at the head and the other at the foot. They asked her, "Woman, why are you crying?" "They have taken my Lord away," she said, "and I don't know where they have put Him." At this, she turned around and saw Jesus standing there, but she did not realize that it was Jesus. He asked her, "Woman, why are you crying?"
Tuesday
Luke 24:44-46 He said to them, "This is what I told you while I was still with you: Everything must be fulfilled that is written about Me in the Law of Moses, the Prophets and the Psalms." Then He opened their minds so they could understand the Scriptures. He told them, "This is what is written: The Messiah will suffer and rise from the dead on the third day,
Wednesday
John 4:9-10 This is how God showed His love among us: He sent His one and only Son into the world that we might live through Him. This is love: not that we loved God, but that He loved us and sent His Son as an atoning sacrifice for our sins.
Thursday
Matthew 28:5-8 The angel said to the women, "Do not be afraid, for I know that you are looking for Jesus, who was crucified. He is not here; He has risen, just as He said. Come and see the place where He lay. Then go quickly and tell His disciples: 'He has risen from the dead and is going ahead of you into Galilee. There you will see Him.' Now I have told you." So the women hurried away from the tomb, afraid yet filled with joy, and ran to tell His disciples.
Friday
John 20:24-28 Now Thomas (also known as Didymus), one of the Twelve, was not with the disciples when Jesus came. So the other disciples told him, "We have seen the Lord!" But he said to them, "Unless I see the nail marks in His hands and put my finger where the nails were, and put my hand into His side, I will not believe." A week later His disciples were in the house again, and Thomas was with them. Though the doors were locked, Jesus came and stood among them and said, "Peace be with you!" Then He said to Thomas, "Put your finger here; see My hands. Reach out your hand and put it into My side. Stop doubting and believe." Thomas said to Him, "My Lord and my God!"
Saturday
Matthew 28:19-20 Therefore go and make disciples of all nations, baptizing them in the name of the Father and of the Son and of the Holy Spirit, and teaching them to obey everything I have commanded you. And surely I am with you always, to the very end of the age."